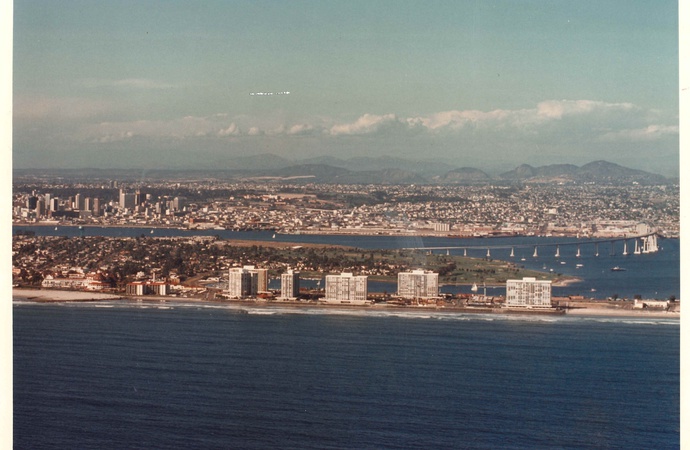 by Paloma Ronis von Helms, CHA Intern
The Coronado Shores are composed of ten 15-story condominium complex buildings lining the shore of the Coronado beach. The shores were built on the strip of land between the Hotel del Coronado and the Silver Strand. This plot of land was previously home to Tent City, a popular vacation destination for summer visitors. Tent City included hundreds of tents positioned next to the beach. Train tracks ran through the location and transported people quickly between San Diego and Coronado in a time before the ferry and the Bay Bridge could fulfill this role.
The Shores are built upon land that was once protected by the California Coastal Zone Conservation Commission. This initially prevented construction on the buildings. However, a San Diego Superior Court Judge ruled the developers exempt from many aspects of the Coastal Zone Conservation Act by deeming it an "integrated project", and they were able to move forward with construction.
The first tower built was the Cabrillo tower, on which construction began in 1970. Loew's Theaters, a New York based development company collaborated with the Los Angeles based J.H. Snyder Company to construct the Shores, which even at the time was a highly profitable venture. Units began selling out shortly after the first few towers were built. The shores were surpassing previous condominium-sale records by 1973 after the construction of the fourth tower. By the time the last building, La Princesa, was finished, all of its units had sold out in 2 hours by a lottery system. The Coronado Shores were officially completed after the tenth building was constructed in 1978.
A seawall built out of large boulders along the beach boardwalk was also built in 1969 to protect the Shores from beach flooding and destruction of property. Today, the seawall can be seen lining the beach in front of the Shores. It spans 3100 ft and cost a total of $325,000 to build.
Throughout the years, the Shores have been home to several prominent figures, including Orville Redenbacher (of Orville Redenbacher popcorn), Joseph Wambaugh (author of many police novels), and Joe Gargiola (famous Major League Baseball player).
Today, the Shores are approaching their 50-year anniversary of initial construction. With a view overlooking the entirety of Coronado, the San Diego Bay, downtown San Diego, as well as Point Loma and the Pacific Ocean, the buildings remain a popular location for second home owners and summer visitors as well as a notable fixture in Coronado's unique skyline.