619.435.7242
1100 Orange Avenue, Coronado CA 92118
Photo Reproduction Non-Exclusive Agreement
All Photo Reproduction Applicants must agree to terms that constitute a non-exclusive license agreement. An example of a non-exclusive license agreement is below. Terms and conditions for Photo Reproduction Requests are determined on a case-by-case basis.
The Coronado Historical Association retains all rights to reproduction and reserves the right to refuse any reproduction request.
Written permission must be obtained from the Coronado Historical Association to reproduce, publish, or use images from the Coronado Historical Association's collections. Once signed, the license agreement document serves as written permission for the purpose(s) listed.

Images may be subjected to copyright protection not owned by Coronado Historical Association. It is the responsibility of the applicant to determine the copyright status, obtain permission, and pay any associated fees, if necessary. Coronado Historical Association reserves the right to revoke this license at any time if Coronado Historical Association is requested to do so by a third-party rights holder.

Permission is granted only for

one

Production, as listed. Additional reproductions, publications, products, language versions (works including subtitles), and other derivative works based on the Production must be separately licensed.

The permission granted is for the Production only. The applicant may only make analog or digital copies as is necessary to create the Production.

Each image must be credited as follows:

Courtesy of the Coronado Historical Association Collection

in a caption or credit.

Each Image that appears in the Production must be unaltered and must be included in its entirety unless noted in the caption, and nothing may be superimposed on the Image unless approved in writing by Coronado Historical Association.

Applicant may be asked to obtain Coronado Historical Association's prior written approval of the final presentation of the Image(s) prior to the distribution of the Production. Such approval will not be unreasonably withheld and will be based upon the presentation of the image as regards color, cropping, identification, credit, placement with other images, etc. T

he Coronado Historical Association may require that once completed, that one copy of the Production is furnished at no charge to the Association.

This agreement supersedes all prior promises, representations, or statements of any kind, whether written or oral. This Application may only be modified in writing signed by an authorized representative of Coronado Historical Association and expressly stating its intention to modify this Application.

The applicant will defend, indemnify, and hold Coronado Historical Association harmless from all claims, causes and allegations (whether threatened or pending), costs, fees and expenses (including reasonable attorneys' fees), awards, judgments, damages, losses and liabilities arising from or relating to any breach of this Application by Applicant or the officers, directors, shareholders, employees, agents, representatives, contractors and subcontractors of Applicant, including, without limitation, any claim, cause, or allegation asserted by a third party against Coronado Historical Association based entirely or in part on Applicant's exploitation of the images licensed.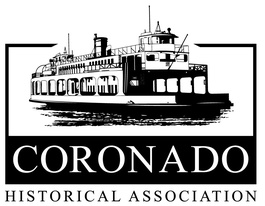 Become a member
Join us and help preserve and share Coronado's unique and wonderful history with intriguing exhibits and innovative programs for all ages.
MEMBERSHIP BENEFITS INCLUDE:
Two complimentary tickets to our Historic Walking Tour of Coronado
Invites to members-only events
...and much more!
Membership information